LifeLong Learning Markham
Lectures for Inquiring Minds
.
To see information on our Winter 2020 Music Education Series, please scroll down.
"Anyone who stops learning is old, whether at 20 or 80.
Anyone who keeps learning is young."
-Henry Ford-
"Wisdom is not a product of schooling, but the lifelong attempt to acquire it."
-Albert Einstein-
.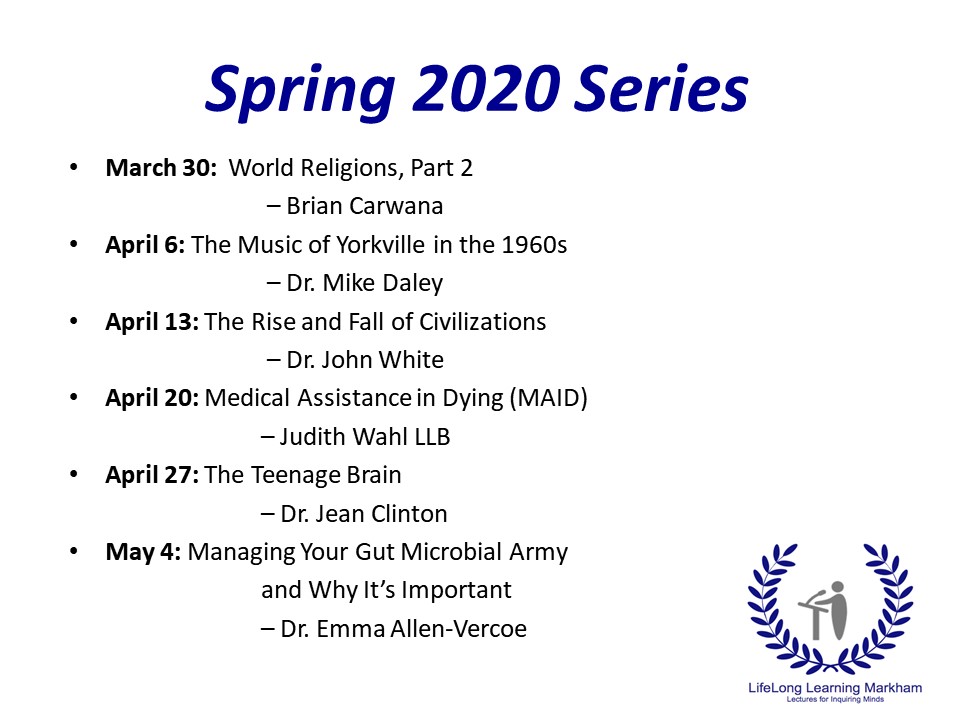 Unfortunately, we are now sold out of tickets for the Spring 2020 Lecture Series. However, you can watch the lectures via Zoom. Download the "Zoom Client for Meetings" from https://zoom.us/download#client_4meeting and then on Mondays from Mar. 30th through May 6th, starting at 10:00am, you can watch and listen to the lectures by clicking on https://zoom.us/j/126689206
.
To see more information on our Spring 2020 Lecture Series, click HERE.
.
To get on our email list for notifications of upcoming Lecture

Series, click here.
.
"Commit yourself to lifelong learning.
The most valuable asset you'll ever have is your mind and what you put into it."
.
-Brian Tracy-
"Always walk through life as if you have something new to learn, and you will."
– Vernon Howard –
.
"Live as if you were to die tomorrow. Learn as if you were to live forever."
– Mahatma Gandhi –
Our Sponsor: